Join Us!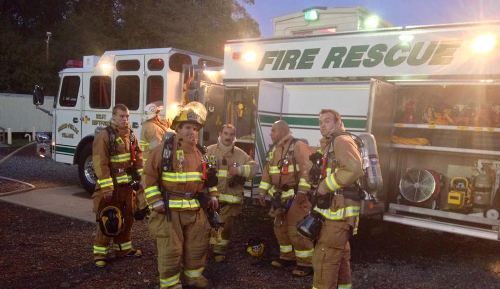 Volunteer Recruitment Overview:
Being a volunteer firefighter can be a very rewarding experience. It offers you the chance to work with state-of-the-art equipment and a chance to experience the camaraderie involved with a community organization. We will provide all of your training as well as everything else that you will need as a member. The Green-Fields Volunteer Fire Company is constantly recruiting volunteers to maintain the quality of the services we provide to the community. There are three different volunteer programs to choose from. They are Active Firefighter, Junior Firefighter and Associate Member. Most importantly, you don't need to have any prior experience to join. All you need to have is a positive attitude and a willingness to learn.
Active Firefighters:
The Active Firefighter volunteers are essential members of the West Deptford Township Emergency Services Team. Their dedication and commitment are integral to our ability to provide the very best service to those who need our help. Volunteers contribute a great deal. In return, they receive career training and experience; first aid training; workman's compensation insurance; Emergency Services Volunteer Length of Service Award Program (LOSAP); New Jersey Relief Association benefits and—the greatest benefit of all—the satisfaction derived from helping those in need.
The Active Firefighter program is for adults age 18 and over, it involves all fire fighting duties. An application must be completed. The membership application process will include a confidential background check, driver's license check and a physical exam.
Qualifications:
To be considered for a Green-Fields volunteer firefighter position, you must:
Be 18 years of age or older
Live within the Township or within 10 minutes of the Green-Fields firehouse
Have a good driving record
Be in good physical condition
Be free of medical conditions which may interfere with your ability to perform required duties
Be able to take orders and follow directions
Junior Firefighters:
The junior firefighter program is for energetic young men and women between the ages of 16 and 17 that are eager to learn more about the fire service. Junior firefighters are given the opportunity to attend training and respond to fires under supervision so they can learn what the Fire Service is all about and hope continue their career as an adult active firefighter. Parental consent is required for Junior Firefighters.
Contact Information:
Captain David Misilewich
31 Budd Blvd.
West Deptford, NJ 08096
Phone: (856)845-2279
Email: info@greenfieldsfire.com


Additional Information:
Applications and information may be obtained at the firehouse on Tuesday evenings at 7:00 PM.
In Conclusion:
Volunteer firefighting is a challenging, highly rewarding endeavor. If you are motivated by the opportunities offered here and believe you can meet the challenges, we encourage you to apply.